Resources
Paper Consumption at TU Dortmund
-
in
Projekte
4 Hochwertige Bildung
13 Massnahmen zum Klimaschutz
TU News
TU's paper consumption has fallen sharply in recent years due to the pandemic. The proportion of recycled paper has stagnated at 36% percent.
Since 2015, data on paper consumption at TU Dortmund University has been reported and published annually in the Paper Atlas. A central procurement system makes it possible to track the total paper consumption of all faculties, institutes and the administration. All paper used is converted into DIN A4 size, for example, one DIN A3 paper counts as two DIN A4 papers.
With the introduction of digital systems such as SAP and digital course catalogues as well as examination systems, paper consumption fell from about 24 million sheets of DIN A4 in 2015 to about 15 million sheets on average in the following 4 years.
Due to the restrictions on face-to-face lectures and the switch to online teaching as well as home office, only 6.5 million sheets were used in the first year of the Corona pandemic. This is more than 8 million sheets less than the year before. To produce 8.7 million sheets of paper (32.3 tonnes), about 80 tonnes of wood are needed. That is 48 spruce trees that are 25 metres tall.
The reduction in paper consumption also comes from the fact that many employees were in home offices in 2020 and students had to switch to their own printers. Some of the consumption has therefore shifted, but there is no data on this. Nevertheless, it can be assumed that increasing digitalisation, forced by the contact restrictions of the pandemic, will have a lasting effect on paper consumption.
Amount of recycling paper
In addition to total paper consumption, there is also data on the proportion of recycled paper used. At TU Dortmund University, recycled paper is used, which is certified with the Blue Angel seal. The certification guarantees that the recycled paper was produced from 100% waste paper.
The proportion of recycled paper used at TU has been around 33% or slightly higher since 2017. In 2020, 2.3 million sheets of recycled paper were used, slightly increasing the rate to 36%.
TU's sustainability strategy includes a target to increase the share of recycled paper to at least 80% by 2025 from the current 36%.
Using recycled paper instead of virgin fibre paper saves water, wood used, energy as well as CO2 emissions. These resources are consumed throughout the entire supply chain up to the finished copy paper. The supply chain includes, among other things, the felling of trees in the forest, the chemical pulp preparation and the transport to the end user. For the key figures used here, a study by the IFEU Institute from 2006 was used. For the production of paper, the resources water, energy as well as CO2 are of interest and burden the environment through their use.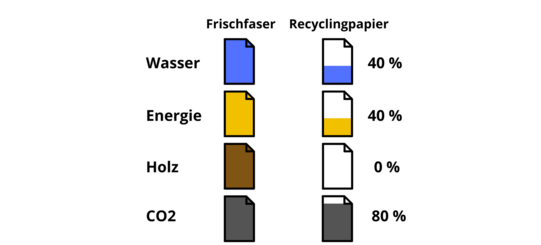 In 2020, the TU consumed about 4.12 million sheets of virgin fibre paper and about 2.33 million sheets of recycled paper. For the production of these paper quantities, a total of 32 tonnes of CO2 were emitted, 1.31 million litres of water were used and 270,000 kWh of energy were consumed. By using recycled paper instead of virgin fibre paper, 370,000 litres of water, about 76,000 kWh of energy and 2 tonnes of CO2 emissions were saved. By comparison, the savings can meet the daily water needs of over 3000 people for an entire year. The energy saved could supply more than 20 three-person households for a year (cf. Paper Atlas 2021).
The choice of recycled or virgin fibre paper at the university is left up to the consumers in faculties, administration and the students themselves. Although the recycled paper used is of high quality, has a whiteness of 90% and even lower costs, the recycling rate at the TU has only increased minimally in recent years. This is where individual consumers in the faculties and institutes come in.
A complete switch to recycled paper at current consumption levels (2020: 6.45 million sheets of DIN A4) could save 5.6 tonnes of CO2 emissions annually. In addition, over 1 million litres of water and 210,000 kWh less would be consumed for the production of the paper.
As digitisation progresses, further offerings will also be created in the future that reduce paper consumption. The university library will completely switch from multifunction printers and copiers to a purely digital scanning service in March 2022 (to the UB blog entry).