Preparation of the biotope on Emil-Figge-Straße
-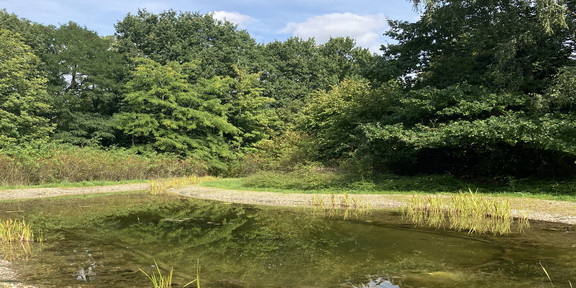 An ecologically valuable biotope on Emil-Figge-Straße can be maintained and didactically rehabilitated.
At the North Campus, between Emil-Figge-Straße and the motorway, there is a biotope with created ponds, many flowers and ecologically valuable plants. An ecologically very valuable area, formerly known as the "break path", where you could go for a walk and linger on benches.
The biotope can play a role in various projects. First of all, the old paths have to be cut free and possibly new paths have to be created. In addition, flora and fauna can be mapped and the paths recorded. To provide better information, the biotope needs signs and information boards on biodiversity can be created. In addition, the biotope could be educationally processed in seminars and, for example, an adventure trail or geocache could be established, possibly in cooperation with the neighbouring kindergarten.